Do you like your office windows? Do you wish they were better looking or more secure? You might have thought about replacing those windows. The problem is, a replacement can be very expensive and very time-consuming. You might need to consider office window film for your Edmond office location. Installing window film in your office is cheaper and more efficient and provides great energy efficiency benefits.
Window tinting is a great investment for office buildings and it is also one that pays off very quickly. Window film offers significant energy savings and most businesses get a full return on their investment in 2-3 years.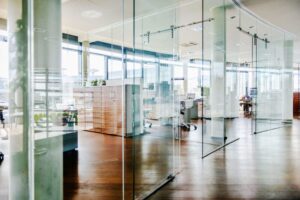 Benefits of Office Window Film for Edmond Businesses:
Energy Savings – Window film helps to reduce heat gain and loss through the windows which results in significant energy savings.
Security – Security films are designed to hold shattered glass together in the event of a breakage. This prevents injuries and damage to your office fixtures and furnishings.
Privacy – Window film can be used to create privacy in areas where it is needed such as conference rooms, private offices, or waiting rooms.
Aesthetics – Decorative films can be used to create a custom look and frost films or etched films can provide privacy without sacrificing the natural light.
Glare and UV Protection – Our office window film blocks out 99% of the harmful UV rays which is what fades and destroys your office fixtures and furnishings. It also reduces the glare which makes for a much more productive employee and a happier customer.
Get a Free Quote today for Your Edmond Office Windows.